I've a workshop at Petersham Nurseries for their ongoing program in the School of Garden Inspiration and I am tackling the shadier aspects of the garden – north-facing aspects, tall walls and boundaries, trees – and the dry, inhospitable places as well as the cool and damp. These areas ought to be a welcome distraction from the merciless scrutiny of the sun and if you are lucky enough to have shade, of any description, then there is much that only you can do that your sunny-dispositioned gardener could only dream of. I've tackled the brilliance of the winter and spring garden and we march on through the seasons through summer and into autumn. Tempus fugit and all that marlarcky.
As temperatures hereabouts head up into and above the high twenties and I spend so much time a-watering the plants at Petersham, my own north-west facing plot, 'neath a towering Horse Chestnut tree and with ample cool borders, I am already a convert to shade gardening and all horticultural highlights (though I suppose these should be lowlights) – they afford me.
I'll upload my notes for the workshop for the delight and delectation of any people who stumble upon my blog and of course for those good folk who attended the workshop – and for any stressed soul who is perplexed and bewildered by the state of affairs in the darker recesses of their garden. Salvation is nigh!
In the meantime, I will hand over to these gardening gurus and their own pearls of hard-earned wisdom. Enjoy.
The URL (is that the thing) precedes the article with due credits for authorship and photography where appropriate. These are their words and pictures.
http://www.telegraph.co.uk/gardening/howtogrow/3337816/On-the-spot-the-best-white-flowers-for-shade.html
On the spot: the best white flowers for shade
Val Bourne picks her favourite pale blooms
Every garden, however open, has its shady places where the sun rarely shines. It may be a tucked-away corner or the dark side of a wall, but these gloomy areas provide the perfect spot for pristine green leaves and pure white flowers. In shade, white flowers shine like stars in the gloaming, and die more nobly as well, not least because they are protected from scorching. The secret of maximising their impact is to surround them with a tapestry of rich green foliage.
Diminutive groundcover forms of Hedera helix could creep among them. I can recommend the lightly crimped 'Ivalace', and the small-leafed 'Spetchley' and 'Duckfoot' as well-behaved, non-smothering varieties. Or you could conjure up a green background with the ruched-edged climbing ivy 'Parsley Crested' or white-veined 'Pedata'. There are hundreds to choose from, but avoid variegated forms in white-themed areas.
Hardy ferns work well, too. The black-fringed crosiers of Dryopteris wallichiana or crested forms of the male fern Dryopteris filix-mas flatter white flowers enormously. The evergreen hart's tongue fern, Asplenium scolopendrium, has strappy, wavy-edged fronds, and there are several fine crested and waved forms, but they do prefer limy soil.
Viola cornuta Alba Group This long-lived, front-of-the-border perennial forms a low-growing mound of small leaves topped by long, slender stems of small, asymmetrical pansies. These wispy flowers are much more beguiling than flat-faced, larger-flowered pansies. Trim back after flowering to produce a second flush in late summer. The vital thing is to shear all forms of Viola cornuta back to ground level in early September, to promote tight, new growth capable of surviving winter. White forms come true from seed, and all violas can be raised easily from summer cuttings.
Aquilegia vulgaris 'Nivea' Aquilegias are promiscuous members of the buttercup family and tend to cross, hybridise and self-seed in shady places. However, A. vulgaris 'Nivea' (syn. 'Munstead White') is a stable seed strain that reproduces identical plants with wide-petalled white flowers tipped in spring green. The ferny foliage is also a pleasing light green. The easiest way to propagate it is to collect the seeds and sprinkle liberally where needed.
Primula 'Dawn Ansell' Oldfashioned primroses have been cultivated for centuries and there are frilled doubles, "hose in hose" forms (with one flower inside the other), and "Jack-in-the-green" primroses, whose flowers are framed by leafy collars. P. 'Dawn Ansell' is a pristine white double with a neat, leafy surround. All primroses hate dry conditions and need cool, moist soil in summer, so place them carefully.
Silene fimbriata This white catch. y, similar in stance to our native red campion, will grow in deep shade and will even spread gently through dry shade under trees or hedges where little else grows. It will also pop up close to evergreen shrubs. Green rosettes of downy leaf reappear in spring, followed by wands of white flowers. Each flower has finely fringed petals held in a balloon-like, lime-green calyx.
Symphytum orientale This upright comfrey has bright-green foliage and cymes of pure white, nectar-rich . owers in May. These should be removed as they fade to prevent selfseeding. Then crop the whole plant back hard and add the leaves to the compost heap. Within 10 days, fresh leaves and a second crop of flowers will begin to appear. Good in shade or sun, it reaches about 70cm (28in).
____________________________________________________
http://www.telegraph.co.uk/gardening/how-to-grow/how-to-grow-veg-in-the-shade/
How to grow veg in the shade
Look through any textbook on edible gardening and certain phrases come up again and again.
"Suited to an open sunny aspect", "plant in full sun", "choose a sunny, sheltered site". Vegetable gardening books are mantras to the sun. To make the admittedly impressive leap from seedling to mature and productive plant within our short growing season, most vegetables need a high input of the sun's energy. This is dispiriting for us city-dwelling gardeners, who tend to be loomed over by buildings and squeezed down narrow and dank side returns.
But if you look beyond the obvious sun-loving subjects, there is actually a good number of edibles that will thrive in your shadier corners. Put aside dreams of tomatoes and aubergines and you will find there are plenty of delicious crops that even the most cramped and shaded-out gardener can grow very well indeed.
Go leafy
Shade gardeners actually have the edge over their sun-blessed counterparts in the matter of one particular group of edible plants: salad leaves. Lettuce in particular hates heat, and is normally at its best grown in spring or autumn, the cooler seasons. Grow a lettuce leaf or a row of spinach on your sunny hillside at the height of summer and it will run to flower and seed almost as soon as it has germinated.
Do the same in your own shady spot and you will have lush and juicy leaves. And there are other leafy plants that will grow glossy, beautiful and appetising in shade, particularly if you grow them as baby leaves, so there is no time for troubles with moulds to develop. In one particular shady corner I plant a raised bed of lettuces of many different textures and leaf colours, and mix them with baby spinach, chard, kale, oriental mustards, and peas grown for pea shoots. A shady vegetable patch is certainly no excuse for dull salads.
Shady herbs
Many of the plants we grow as herbs originate on heat-blasted hillsides in Mediterranean climates, and it is easy to get disheartened when you have watched a pot of sage or rosemary sulk in the gloaming of your side return. But lots of herbs can cope with lower levels of sunlight. The most obvious are the mints, which will thrive in really low levels of light.
Plant a couple for culinary use – one for tea such as Moroccan mint Mentha spicata var. Crispa, one for sprinkling onto fruit, such as basil mint Mentha x piperita f. Citrata – and then a variegated pineapple mint for a splash of bright foliage in the dark.
Chiveswill grow well in shade as long as they get a little sun each day. The more sun, the more flowers, but you should get plenty of the grassy leaves planted anywhere.
Parsley is also happy in partial shade. Oregano is usually a sun lover, but the golden form does well anywhere, and coriander can be good in shade, which can help prevent its habit of early bolting. Other gloomy herb garden subjects are tarragon and lemon balm.
Go perennial
Just as full sun is needed to get most annual plants to run through their life cycle in one season, so it stands to reason that perennial edibles will cope with shade. Unfortunately a couple of the best perennial edibles – sea kale and globe artichokes – still demand that prime sun-kissed spot, and asparagus will only cope with lightly dappled shade. But there are several other contenders that are less picky.
hubarbis a brilliant choice, and even does well in the shade of hazelnut bushes on my allotment as long as it is mulched well each year so that the soil stays moist and rich. Artichoke lookalikes cardoons (grown for the blanched stems) will do well. Also try Good King Henry to scrabble about the ground (it tastes like spinach).
Woodland fruits
Most fruits need full sun to ripen but those that originate in woodland conditions can cope with far less. The Japanese wineberry is a beautiful plant that produces delicious red berries in summer and is hugely productive in a semi-shady spot. Likewise, blackberries do well enough in shade, though you will always find the most delicious berries in full sun. Alpine strawberries cope with partial shade, growing around the feet of other plants, though again they are more productive and sweeter in sun.
The general rule is to grow those varieties of fruits that are usually cooked with sugar, as they are naturally tart and therefore do not need great exposure to sunlight to develop sweetness. So you may well get away with a cooking apple in a spot where you would not grow an eating apple, a culinary pear where you wouldn't grow a dessert pear. All of the currants – white currants, red currants and black currants – are woodland plants and produce well in shade, and because of their sharp flavour are often cooked anyway.
Gooseberries and cherries will also do well, but likewise choose a sour cherry for cooking rather than a sweet, dessert cherry.
The seed catalogue is not your oyster when you have a garden that is shady: you cannot simply pick and choose your favourite edibles and presume they will grow for you.
But make your choices from the perennials, the leafy herbs and the woodland dwellers and you will find that shade can be very productive and its crops surprisingly delicious.
____________________________________________________
http://www.telegraph.co.uk/gardening/gardenprojects/3299154/Ten-ways-to-make-shade-cool.html
Ten ways to make shade cool
Space is at a premium in towns so gardens tend to be small and shady but there's no reason for them to be boring. Be bold, says Anthony Noel
THERE is no urban retreat more appealing in the summer heat than a cool and private outside space. Town gardens that are both small and shady are often considered the ultimate green-fingered challenge but you would be amazed at just how attractive you can make them. I certainly was when I lived in Dulwich, south-east London.
The "problems" vary. Is your garden shady all day or does it get shafts of sunlight at certain times? Or perhaps it is only shady in the winter? Maybe it is in the lee of the house, or is the shade made by a tree that cannot or should not be removed? Whatever the conditions, there is always a solution. All you need is confidence and the most rudimentary knowledge of what will survive.
Here are 10 pointers that worked in my L-shaped, 37ft by 15ft town garden.
The low light-levels in shady gardens make things appear smaller. Boldness in everything from layout to planting and ornament redresses the balance. So, make borders deep, paved areas generous, and containers as big as space will allow – planted boldly with one or, at most, two varieties. In the ground, vary things a little, with one weird or wonderful plant occasionally taking the spotlight. Shady gardens, especially, need character as well as beauty.
2 Boundaries
If you have brick walls, power-jet or paint them (see no 4). Otherwise, consider covering fences with panels of split bamboo, woven reeds or the endlessly versatile trellis. Stylishly modern or grandly traditional, easy to install and inexpensive, trellis is the answer to an urban gardener's prayer. I like to use the plain squared variety as exterior wallpaper, floor to ceiling, to disguise ugly walls and fences, and transform sunless places that the rain never reaches.
As a real boundary or a disguise, trellis gives a feeling of space beyond. Grey and cream marbled ivy, interspersed with different types of clematis (nearly all are shade-tolerant), soon creates a beautiful evergreen barrier. Top the supporting posts with ornamental balls, acorns or turned wooden pineapples.
3 Tree control
Never get rid of a tree unless absolutely necessary; once gone, all that beauty and maturity will take another 100 years to replace.
Under a deciduous tree, you can grow the choicest bulbs that thrive on spring sunshine and summer shade. Dry shade from a beech tree – the one really dense, deciduous tree – or an evergreen is more restrictive but there are still solutions. You could grow different varieties of wild cyclamen all year round or carpet the ground with variegated ivy. In the worst case, gravel the area and bring different pots to it to liven things up.
It is amazing how you can improve light levels by carefully pruning trees and shrubs that have grown too large or tangled into a more elegant, open shape. The great garden designer Russell Page called this "carving with air".
I once turned a collapsed white willow into a huge bonsai tree by thinning out the branches. The tree did not seem to mind and underneath I created a raised bed, full of good soil, where smaller plants did not have to compete with the tree's roots. If you do this, be sure not to bury the trunk.
4 Paint colour
Unless you live by the sea, white-washed walls look cold and gloomy – they seem to green up more quickly too. Instead, I find that Fowler Pink, a shell-pink/pale terracotta paint, manufactured by Farrow & Ball, brings the warmth and light of the Mediterranean to the gloomiest outlook.
In the man-made environment of a roof or courtyard, rich warm colours, like bright red, raspberry pink and Chinese yellow, can glow like embers on bonfire night if used boldly.
5 Sparkle and glamour
White flowers and silver foliage bring a unique sparkle and glamour to a garden. Many such plants will thrive with little or no sun, as do variegated varieties – too much sun on their delicate leaves can burn, bleach or fade them.
Urban gardens, even shady ones, are always a few degrees warmer than their country cousins, so take advantage of this protected micro-climate. Quite a few exotic-looking, architectural plants will be perfectly happy in the shade: cordylines (Torbay Palms), Trachycarpus (Chusan Palm), and Fatsia japonica (castor-oil fig), to name but three.
More glamorous still are those with grey and silver leaves: stunning Melianthus major (cut it to the ground each Easter ), Astelia nervosa (soft, sword-like leaves, two or three-feet long), Santolina pinnata subsp. neapolitana (clip into huge globes each spring for a change in texture and shape).
All silvers need sharp drainage, so mix in a couple of generous spadefuls of grit or gravel with the soil at planting time.
Just as a checkerboard marble floor brings life to a Georgian hall, painting an aggregate one black and white will do the same for a roof. As it weathers, the texture of the slabs will show through, creating a delightfully ancient, seedy and exotic look.
Gravel also gives sparkle to a shady place. Pea shingle is kindest to shoes, but there is a coarser one called Cotswold buff. Paving stones laid by the door into the house will prevent half the gravel ending up on the kitchen or sitting-room floor.
6 Planting
The legendary American fashion editor Diana Vreeland suggested decorating a room in nothing but different shades of green. Try this in your garden by mixing different leaf textures and shapes with some opulent white flowers – perhaps hydrangeas or tobacco flowers – and chic touches of black, silver and lime.
Viola 'Molly Sanderson' has jet-black flowers, as does V. 'Bowles' Black' which seeds freely but never becomes a nuisance. Giant mop-heads of bay look wonderful in squares of easy-going black ophiopogon, underplanted with baby pink and white cyclamen, set in old flag-stones. And glamorous hostas are never so happy as when they are grown in a shady place.
You will not do much better than H. sieboldiana var. elegans with its huge blue/green quilted leaves. Insist on elegans – the regular H. sieboldiana is not worth having. Hostas are very happy in pots and a ring of vaseline around the rim will protect them from their arch-enemies, slugs and snails.
Talking of hostas, which are moisture-lovers too, do have an outside tap fitted or install a watering system, as shady gardens tend to be on the dry side.
7 Climbers
In my view, all houses should be softened with climbing plants, but avoid sun-lovers which strive upwards towards the light, leaving their feet bare. Instead, concentrate on varieties that are happy in shade, such as Hydrangea anomala subsp. petiolaris, Akebia quinata, clematis and camellias.
Add height with trellis pyramids, wreathed in climbers. I also use large urns planted with low-maintenance architectural plants; often light levels are better six or seven feet up, and sometimes it is actually quite sunny. Another way of adding height, with space at a premium, is with large standards such as bay (Laurus nobilis).
8 Containers
Always go for the largest containers possible. They will need watering less often, besides looking good. Square, wooden, Versailles tubs with mirrored panels bring another dimension to a small area – the reflections make a strongly patterned floor appear to go on forever.
Not only do plants grow well in naturally porous terracotta, but this takes the patina of age well and adds warmth. Terracotta is also a particularly effective foil for architectural box-wood shapes – globes, squares, pyramids and mop-heads – and for yew, which is best trained as a cone or pyramid. Bay, box, holly and yew will all be happy in shade, as long as they are not underneath dripping branches.
Ban plastic containers unless they are black and shiny; if used with confidence, these make a sophisticated foil for plants. For spring, cram them with white hyacinths. For the summer, raspberry and black Pelargonium 'Lord Bute'. And, for the autumn, pink, green and cream ornamental cabbages. Lilies look elegant in galvanized florist's buckets.
With all garden containers, make sure you provide adequate drainage holes. Generally, John Innes No 2 is a safe bet for planting up. Do not economise by using garden soil: you will get worms, usually a gardener's best friend but very disruptive in the confined space of a pot.
9 Ornament and vistas
The smaller the space, the more important it is to place things well.
In a shady garden, try to site benches, ornamental urns or wall-fountains in the light, so that they can be seen through the gloom. Think about the different views, not just from your window to the end of the garden, but also across the space and looking back at the house.
Nothing brings a garden to life like moving water: a wall-fountain opposite a bench, for instance, or at the far end of a vista. There are some excellent ready-made fountains, both traditional and ultra-modern, which run on a concealed re-circulating pump, so all they require is a safe electrical connection (do consult a qualified electrician over this). Or you could go for a white seat or pale-stone ornament surrounded by ferns, hellebores and moss.
10 Atmosphere
Apart from weekends, you probably use your garden most at night – to relax after a busy day or to entertain friends.
Do not be afraid of lighting your outside space. Uplighting is as effective in the garden as it is inside, so keep everything low down, and many small sources of light are much more atmospheric than a few large ones. Consider flares, strings of fairy-lights and thick candles in hurricane jars. And white flowers and heady scents should be added for maximum evening romance.
The Sharp End: Tackling shaded garden areas
Stephen Lacey finds it takes just a few desirable plants to bring light and scent to shady areas of the late-season garden .
Keeping the interest going in shady parts of the garden in late summer is a challenge. But walls and fences – and in my garden, a rather greedy accumulation of trees and shrubs – mean that this is a challenge that many of us have to face up to squarely. I am forever rummaging through nurseries for plants perky, polished, pulchritudinous and perfumed, for the gloomy understorey. Here is a little survey of my best finds, old and new.
There are not many late-season plants that will flower in almost total darkness, but the ivy-leaved cyclamen, C. hederifolium, will. It thrives for me on the dry, north side of hollies and conifers and under dense trees, where there is some light in winter but hardly any now. I have just been adding more of the pink forms to a revamped shady glade (light but sunless) by the front gate, and will also transplant some of my own self-sown seedlings there in the spring.
Colour scheming is out of fashion, but I still like a vague theme in each area. So, other pinkish plants I have been gathering in this same spot are Hydrangea macrophylla 'Merveille Sanguine', which has dark leaves and sumptuous blood-crimson mopheads; 'Hadspen Abundance', one of the richest hued of the saucer-flowered Japanese anemones, and a plant that gently seeds itself about; and a really useful, long-season knotweed for shade, Persicaria campanulata which, unlike its spiky relatives, has loose heads of palest pink flowers like cherry blossom on 3ft stems. All these are performing now.
White is a more arresting colour for springing out of the shadows, and many shade-lovers including Persicaria campanulata Alba Group have a pure white version. I was delighted to meet a white form of Geranium nodosum for the first time earlier this year, and promptly bought a couple. It is called 'Silverwood'. Its parent is a maple-leaved hardy geranium that flowers non-stop all summer even in dry, north-facing beds, but its mauve flowers are pedestrian: white is a huge improvement.
White phloxes are good in moist shade – the larger-flowered 'David' is just taking over from 'Mount Fuji' behind my apple tree – and for drier spots there is a charming white-flowered aster that performs from August onwards called A. divaricatus. I have it flopping over hellebore leaves under the beech tree. Further along, winding through a rambler rose, green and white-flowered Clematis viticella 'Alba Luxurians' is also at its best now.
I try to get scent into as many corners of the garden as possible, and that includes shade. The easy-going, mid-sized shrub Clerodendrum trichotomum var. fargesii is delivering it in clouds at the moment – a heady jasmine-like perfume from small white flowers held above purple-flushed young leaves (which don't smell quite so good: a sort of fetid peanut). The colours are echoed by Actaea (Cimicifuga) simplex Atropurpurea Group, which is now flaunting 6ft-tall white bottlebrushes, scented of bubblegum, above ferny purple foliage. I have them on the shady side of a tripod of sweet peas – damson-flecked 'Wiltshire Ripple' and claret 'Beaujolais' (from Kings Seeds, Essex).
Clumps of lords and ladies, Arum italicum 'Pictum', are adding patches of orange berries among the ferns and hellebores. In spring, I am going to move some to combine with the arching stems of Gentiana asclepiadea, which is the least demanding of all the gentians and now producing its blue trumpets in one of my north-facing beds. Self-seeded montbretias have also been giving flashes of orange on lightly shaded border fringes, but just starting to colonise is a better version called Crocosmia x crocosmioides 'Castle Ward Late', with rich rusty stars, less foliage, and a good long season. It would be good combined with the pale yellow shuttlecocks of Kirengeshoma palmata, another shade-loving September stalwart.
____________________________________________________
http://www.telegraph.co.uk/gardening/9683221/The-best-plants-for-shady-areas.html
The best plants for shady areas
Helen Yemm addresses the problem of what to plant in those difficult areas under the shade of trees.
Every November, my front garden becomes a source of horticultural angst. Surrounded by evergreen hedges, the thin patch of lawn (this year freshly compacted by roofers and thus easily waterlogged), becomes obliterated under the mass of leaves that hail down from a huge overhanging oak. When all the leaves are down, the rain stops and the ground dries, I will get out and restore order. But the dismal situation this month brought to mind a reader wanting low-maintenance ideas for a similar site where, she said, not much thrives. I burrowed around and found the email – from Linda Salt – and decided to look on the bright side and give her some guidance, citing my own efforts as proof that there is indeed life under oaks.
It is hard to imagine now, but parts of my currently sparse lawn break out in spring to reveal snowdrops, aconites and other spring thingies that do well under deciduous trees. The grass perks up after a feed – I start mowing it and it stays green for most of the year despite the shade. Close to the oak trunk there is a colony of the easiest native fern, Dryopteris filix-mas (the only one that thrives in summer-dry soil), as well as mats of white-flowered sweet woodruff, Galium odoratum and pink Geranium macrorrhizum.
There is also the evergreen Euphorbia amygdaloides var. robbiae, whose lime-green "flowers" illuminate the gathering gloom as the oak leafs up. I have also planted some shade-tolerant and good-looking shrubs. Leaf contrasts are important and flowers are few, although martagon lilies thrive and white-flowered honesty and foxgloves self-seed here and there. Around the shrubs clusters of cyclamen flower in autumn and early winter, following on with wide rosettes of beautiful foliage. An urn containing a big stripy hosta is a focal point, and during the summer I also heave large pots of pale lilies into strategic positions.
Giving up so much sun to the tree has drawbacks, not least the annual leaf cascade. We are, in effect, gardening in a wood, so it is important to make the most of this resource that otherwise lies in drifts, choking hedges. I pile them up (with a battery-powered blower from Bosch) and chop them with the mower before composting them in wire cages. Mixed with a little bone meal, the resulting mould improves my rooty, slightly acidic soil for planting. I also use it to mulch around the newer shrubs and rhododendrons in spring.
After at least two seasons of careful nurturing to get them established (i.e. clawing back the mulch to deeply drench their roots once or twice in high summer before replacing it), my new shrubs are, five years on, growing well. While November will never be anything other than frustrating, the little area has earned itself a grand, if somewhat ironic, name: "The Leaf Garden". The dappled light out there is particularly enchanting on hot midsummer afternoons. Remember them?
____________________________________________________
http://www.telegraph.co.uk/gardening/11728809/A-guide-to-shady-planting.html
A guide to shady planting
We offer up the best plants for the shady areas of your garden
Photo: Marianne Majerus Garden Images
Dry shade or damp shade?
First of all, you have to ascertain what sort of shade you've got. This may sound silly, but there are so many variations – partial shade, dry shade, deep shade etc – that working out the depth of shade you have becomes pretty important.
Dry shade for example is found in the majority of gardens. Perhaps it's up against a wall, adjacent to an area of high bushes, or simply underneath the branches of a tree.
This is the most difficult kind of shade in which to grow anything, as it never gets much rainfall. As a result it remains perennially dry. The growing conditions in this kind of shade can be helped by adding organic matter – grass clippings, vegetable waste or compost – to the soil.
Wet shade however is more likely to be found in the wider countryside – perhaps beside ponds or lakes, or adjacent to woodland and forests.
You can also consider selectively pruning the tree or thinning the hedge if this is what is creating the shade in the first place.
These kinds of areas tend to retain lots of moisture, and so there's an entirely different area to be catered for. To improve this kind of soil, just add a touch of sand, which should hopefully improve drainage.
Before you rush out and buy lots of plants, also consider how much shade your garden has, ie for how many hours a day is any part of it in shade? This is where the question of partial shade comes in – many plants can stand some partial shade if they get good light for the rest of the day. If in doubt, consult the nursery where you are buying your plants or check the RHS website for its advice on specific plants.
Beth Chatto offers a whole section on shade loving plants.
Perennials
Lily of the Valley
Synonymous with its beautiful scent, Lily of the Valley is perfect for damp shade. Let it take over a darker space of your garden with beautiful flowers in spring, and red fruit throughout the summer. Typically propagated by seed.

Lily of the Valley Picture: Features Scan
Lady's Mantle
Alchemilla mollis, or Lady's Mantle as it is more often referred to, is rather hardy and as a result will happily reside in any areas of dry shade. It'll produce beautiful foliage year round and throughout the summer months, a stunning spray of yellow flowers.

Lady's Mantle Picture Alamy
Cranesbill
Cranesbill, a type of geranium, is perfect for dry shade, and it's woodland counterpart (Wood Cranesbill) can grow in damp shade too. The variety can be found in stunning pinks, whites, purples and blues and flowers right through from spring to early autumn. Can be grown from basal cuttings or by dividing the plant.

Cranesbill Picture: Alamy
Biennials/Annuals
Foxgloves
A typical English country garden staple, the humble foxglove is wonderful for shady areas. A biennial, it flowers every other year, however throughout the summer months beautiful flowers of all colours blooms – perfect for the bees as well. Seed can be sown late spring.

Foxgloves Picture: Alamy
Honesty
Honesty produces dainty, highly scented flowers right through from spring to summer and its perfect home is dry shade. Its seed heads are also extremely pretty – making them a favourite of florists when dried. Sow seeds from May to June.

Honest Picture: Alamy
Shrubs
Cotoneaster
Perfect for a festive feel, cotoneaster is perfect for dry shady areas. It produces small whitish pink flowers throughout the summer, however by autumn/winter it produces the most beautiful red berries. Certainly ideal for a Christmas wreath. Can be grown by seed or as softwood cuttings in early summer.

Cotoneaster Picture: Marianne Majerus
Climbing
Honeysuckle
Honeysuckle, a summer staple, is highly fragrant and perfect for climbing up a shady wall. Take cuttings from late spring, or sow seeds in autumn.

Honeysuckle Picture: Alamy
Virginia creeper
Ideal for hues of burnt orange, red and yellow adorning garden walls throughout the autumn, Virginia creeper grows perfectly in full shade. Can be grown by layering or taking hardwood cuttings.

Virginia Creeper Picture: Marianne Majerus
____________________________________________________
http://www.telegraph.co.uk/gardening/howtogrow/6635546/Theres-a-hydrangea-for-all-types-of-garden.html
There's a hydrangea for all types of garden
How to grow hydrangeas even in dry conditions and alkaline soil
I have never quite got my head around the often quoted fact that the hydra part of their name implies that they love moisture. Mine are not cosseted, but are born survivors.
Having just spoken to Shelagh Newman, who has one of the national collections of hydrangeas, all is revealed. The hydra comes from the multi-headed beast in Greek mythology and is nothing to do with loving water. If you examine the female flower parts closely the stigma has three heads.
Many hydrangeas perform well on dry soils and some are even excellent in shade, notably the H. serrata variety. They tolerate a wide range of soils – wet, dry, acid and alkaline. Hydrangeas suffer from extremely poor PR. The perception of them for many is that they are fusty and old-fashioned, mostly confined to drab lines in wishy washy shades along low brick walls in bungalow country.
Pop over to Tuscany, however, and you will see the same plant, well grown, massively bigger with huge blue flowers, thriving in splendid pots next to a stately Italian villa, looking the aristocratic star of the show for months on end. These stars can be chameleons. A question we are always asked on Gardeners' Question Time, is "Why did my blue hydrangeas turn pink when I put them out in the garden and how do I keep them blue?'' It is commonly known that if your soil is acid, less than pH5.5 or so, then the flowers will be blue.
If the pH is above this, then they will be pink. But many people find that they also tend to go pink for a year or two after they have been moved. This is possibly because the uptake of the aluminium ions (essential to get the blue colour) in the soil has been impeded by damaging peripheral roots during the move.
If you want blue hydrangeas and have an alkaline soil, the simplest way is to keep them in a pot with ericaceous compost or change the soil where you are to plant them. Add some hydrangea colourant regularly — this is aluminium sulphate – and sulphur chips (from Greenacre Horticulture Supplies) twice a year or so. Beware however: if you let the soil get too dry, the roots will sneak out into the surrounding soil and you will be back with knicker-pink flowers. Shelagh Newman advocates mulching with bark and leaf mould and has found in parts of her garden under oak trees the pH is 4.5; away from the regular leaf deposits the pH is 6.5. At Hidcote they used to add sawdust to reduce the pH.
In terms of colour, a good hydrangea to give you a bonny blue is Hydrangea macrophylla 'Endless Summer' (also known as 'All Summer Beauty'). It is relatively new and will flower from June until the frosts. It outperforms the better known older H. macrophylla 'Générale Vicomtesse de Vibraye'.
Some years hydrangeas fail to flower. This is usually because some hydrangeas only flower on their terminal shoots and if these get snaffled by a late frost, all is lost. If you want to be sure of flowers, go for those that flower on their terminal and lateral shoots. The subsequent flowers from the lateral shoots will escape all late frosts. Paniculatas are excellent in this respect and as they flower on new wood you can just prune them by cutting them all down to about 18in in spring. Alternatively, if you like something a bit different, you can train or buy these as standards. Tie the single stem to a cane, remove any side growth and in three to four years you will get a standard that will grow to about 5ft high. There are many paniculatas to make your mouth water, but 'Limelight' is a startlingly vibrant limy green and 'Vanille Fraise' opens in cream and ages to a deep pink.
Pruning hydrangeas confuses many. A few hydrangeas flower on new wood, notably Hydrangea arborescens 'Annabelle'. This must be the easiest hydrangea, because it produces lots of white/ pale green flowers and the dried heads last well in winter on or off the bush. It never seems to fail. You can prune it right down to almost nothing in spring, or leave it totally or remove a little of the older wood each year.
With hydrangeas that flower on wood made the summer before, you can just remove the older, dying or crossing branches in spring, or, if you are more active, remove about a third of the older wood at the base (also in spring) to help rejuvenate the plant.
Next year I intend to take cuttings of potential new recruits: they are one of the easiest plants to root, often taking just three to four weeks if taken in May or June. I hanker after many, but will definitely try two beauties: H. macrophylla 'Merveille Sanguine', an intense crimson, and the lower growing H. involucrata 'Hortensis' which slowly suckers, has white to pale coral-pink heads and looks like a rare, specimen but, like most of its relatives, is surprisingly easy to look after.
For inspiration, look at the plants in Sheila Newman's national collection at Holehird Gardens, near Windermere.
It is run beautifully entirely by volunteers and open every day from dawn to dusk.
____________________________________________________
http://www.telegraph.co.uk/gardening/3323635/How-to-grow-Japanese-anemones.html
How to grow: Japanese anemones
A quick guide on how to grow Japanese anemones
Few plants can send up a succession of flowers from August until late October and look elegant at every stage, whether tight bud, long-lasting flower or neatly spherical seed head.
But the Japanese anemone manages it perfectly, and there are few more beautiful forms than 'Hadspen Abundance'.

Japanese Anemone 'Hadspen Abundance' Picture: Alamy
This distinctive plant reaches 90cm (3ft) tall and was discovered at Hadspen House in Somerset in the late 1970s by plantsman Eric Smith.
Beth Chatto was the first person to list it, in about 1980. It's unusual because the flowers are made up of two smaller dark-pink petals and three slightly larger, paler ones, set against dark foliage.
This two-tone effect gives the plant a shimmering presence in the border, a unique feature among Japanese anemones. (Many plants sold as 'Hadspen Abundance' are in fact pink doubles.)
The term Japanese anemone is misleading. A. hupehensis is actually a native of Hupeh province in eastern China, but it was grown in Japanese gardens for centuries, hence the confusion.
Robert Fortune (1812-1880) introduced it into Europe in 1844, having apparently discovered it running between the tombstones in a Shanghai graveyard.
It was one of several long-lived, ethereal plants used to commemorate the dead. In the garden setting, too, they seem to enjoy popping up through stonework or paving close to buildings or paths.
All plants given the species name hupehensis are distinctive; the five rounded, evenly spaced petals form branching heads of simply shaped flowers.
If several are grown together they will produce seedlings and most named forms are natural selections, rather than deliberate crosses.
A. hupehensis var. japonica 'Bressingham Glow', bred by Alan Bloom in 1968, is shorter than most with deep-pink flowers.

'Bressingham Glow' Picture: Nicola Stocken Tomkins
There is also an excellent German variety bred by Wilhelm Pfitzer in 1902: 'Prinz Heinrich' has deep-pink, semi-double flowers and quilled petals. The much newer 'Pamina', also from Germany, has purplish-pink, semi-double flowers and is one of the prettiest of all, though I have failed to establish a good colony as yet.

'Prinz Heinrich' Picture: Picasa
Also filed under the name of Japanese anemone is A. x hybrida, first found growing at the Chiswick Garden of the RHS in 1848. It is thought to be a natural hybrid between A. elegans, A. vitifolia and A. hupehensis and has many quilled, uneven petals, and flowers later in the year for a shorter time.
Some forms are a washed-out blue-pink, others have messy, distorted flowers, and are best avoided.
The elegant A. x hybrida 'Honorine Jobert' has neat, white flowers with a boss of golden-yellow stamens set round a green, pin-eyed centre. It is superb against a north or east wall, as it lights up a shady spot.

'Honorine Jobert' Picture: Photolibrary.com
Growing tips
Japanese anemones can colonise large areas and become almost thuggish, rapidly reappearing if you try to eradicate them.
But, despite their robust and long-lived qualities, they can also be difficult to establish because they dislike disturbance. When buying, go for well-grown, larger specimens and plant them in rich friable soil in semi-shade. If conditions are not ideal, they creep towards cooler soil, then romp away.
How to propagate
Well-established plants are best left untouched, but if you do want to increase them, lift the offshoots from the main plant just as they emerge in late spring and pot them up in a soil-based compost, preferably in plastic pots to keep the roots cool.
These can be planted out in mid-summer. Root cuttings can also be taken in early winter: lay sections of root out flat on the surface then cover these with compost.
Good companions
Japanese anemones mix well with many vibrant autumn flowers, including Aster 'Little Carlow' and A. laevis 'Calliope'.

Aster 'Little Carlow' Picture: Alamy
Try rich red and purple hardy fuchsias, such as 'Mrs Popple' and 'Brutus'. Hydrangeas work well in a simple planting scheme and the long-flowering, blue Geranium Rozanne is wonderful partner to both pink and white forms.

Geranium Rozanne Picture: Alamy
The cool whites look very handsome with lots of green foliage and all can be combined with spring bulbs because the leaves emerge late.
____________________________________________________
http://www.telegraph.co.uk/gardening/howtogrow/7975674/Reach-for-the-stars-with-anemones.html
Reach for the stars with anemones
Anemones can be a headline act or part of the chorus. Sarah Raven runs through some favourites to unify a scene.
If I think of the spring gardens I would most like to emulate, this is their common thread. Compare the nuttery at Sissinghurst, or even an ordinary spring wood, with one of those tulip show gardens where tons of money have been spent on lots of spectacular bulbs.
In the first, the plants and shrubs all feel completely threaded together, with hardly a patch of bare ground, every inch colonised over the years by plants, whereas the second looks like temporary dressing up, a garden in its smart clothes with a little too much make-up. This is gardening as buying, whereas I want a garden as being, one that creates a sense that the garden is beyond your intervention, that the plants have evolved and worked things out between themselves.
So, to jump to that look, I'm planting huge numbers of anemones this autumn – not the showy, large-flowered florist's Anemone coronaria, but the small A. nemorosa, A. ranunculoides and A. blanda types and some hybrids in between. At Sissinghurst they use white bluebells, ferns and oxlips to link clumps of exotic trilliums, Veratrum nigrum and Paris, but the cheapest, quickest way to create a delicate, calm, undulating spring ground cover, in sun or shade, is with these small anemones.
I want to carpet around the stitchwort and archangel on the edge of our mini-wood under the swing and swathe large areas in the main, sunny parts of the garden. For the first, slightly shady area, I'm planting a couple of bagfuls of the wild wood anemone, A. nemorosa (AGM). We have colonies of this deeper in the wood, but in this overgrown hedge, it has yet to spread.
This is one of the earliest spring flowers you can grow, and a brilliantly uplifting sight after the dark days of winter – pure, simply pretty and cheerful. The flowers are white, often washed pink and they look good for ages, flowering throughout March and well into April. The foliage disappears quickly and neatly after flowering and, unlike bluebells, doesn't leave a chunky great seedpod to contend with in any later planting scheme.
Wood anemones have a wide pH tolerance, occurring in the wild on almost all types of soil so, once in, they should do well.
Their one downside is that they are very slow colonisers, so the more you can put in at the outset, the better the impact will be for many years.
The seed is rarely fertile so the plants spread by the very slow growth of their root structure "at a snail's pace – no more than 6ft each 100 years" (Richard Mabey, author of Flora Britannica).
Faster results
If you want quick cover but equally sweet, delicate flowers, then Anemone blanda varieties are more for you. The blue-flowered form of A. blanda in particular readily self-sows. I first had these in a pot on the doorstep outside my office at Perch Hill, East Sussex, and from that small pot most of the spring oast garden is – five years on – a sea of blue. The seeds blow around and settle into any chink in your planting – or any mole hill in an area of grass – then take hold and gently spread from there.
There is also the pure white A. blanda 'White Splendour' (AGM). This has flowers twice the size of the first two, a whorly Catherine wheel, which I love for picking. And while we're talking about picking, you must grow just a few of the more expensive, but extraordinary, green-flowered A. nemorosa 'Virescens' (AGM), where all the petals have turned into highly and elegantly divided, green-edged, crimson bracts like miniature angelica leaves, laid one on top of another. This is the perfect foliage backdrop to a mini posy of polyanthus and crocus in a small sherry glass.
With all anemones, if you want to pick them, sear the stem ends in boiling water for 15 seconds and they last – and hold their petals – for nearly a week.
Choice varieties
On top of the straightforward wood anemone varieties, all worth growing, there are some elegant and desirable rarities to keep your eyes peeled for, too.
A. n. 'Robinsoniana' (AGM) is taller and generally showier than most wood anemones in a delicious Farrow and Ball-style duck‑egg blue.
This form, named after the wild gardening pioneer William Robinson, looks wonderful in drifts in thin grass below shrubs and trees with both primroses and cowslips.
As a child, I spent several Easter holidays in Asolo, a hill town on the edge of the Dolomites in Italy. There the woods were often full, not of the white anemone, but of the pale buttercup yellow, A. ranunculoides. This has taller, thinner stems, with the leaves finer and higher on the stem. A lovely thing too, perfect against the backdrop of fallen, coppery leaves with the odd dappled, silver-green leaf of Cyclamen hederifolium.
I have real affection for this plant and the unsalted butter-yellow of its hybrid with A. nemorosa, the pale and delicious, Anemone x lipsiensis 'Pallida'.
So now, in early autumn, is your moment to plant one or all of these bulbs to provide the linking carpets between bright and pale, large and small throughout your spring garden.
PLANTING TIPS
Anemones have strange-looking bulbs or tubers, like a craggy lump of dirt. They hate to dry out completely, so they are best planted in autumn when quite newly lifted and still damp.
If they feel bone-dry, soak them in a bucket of water overnight and they will double in size and grow away more quickly.
For these small-growing anemones, plant them on their longest side, rather than flat, about 2in deep and 3in apart.
The Anemone blanda group likes good drainage, in light shade with loose, leafy soil so, when planting dense areas, try to mix in plenty of leafmould.
The wood anemone (A. nemorosa) prefers a dampish soil, thick with the organic matter that you'd expect to find on the floor of a deciduous wood, so add lots of leafmould to their planting area, too.
A. blanda 'White Splendour' and 'Robinsoniana' in particular are excellent forced in pots for the house and make a lovely table centre.
They're also good in pots or beds in a cool greenhouse or conservatory where they should flower by early February. If kept cool, a pot looks good for more than a month.
___________________________________________________________
http://www.telegraph.co.uk/gardening/9444552/Mary-Keens-fail-safe-summer-borders.html
Mary Keen's fail-safe summer borders
Designer Mary Keen shares a plant list and a design strategy that satisfies the wildest dreams of her most demanding clients.
My design partner Pip Morrison and I often work for clients who have never had a garden and never lived out of London. Their approach to what they want tends to be inspired by the perfect shot of June roses in a magazine. (I know that to get that perfect shot the photographer has camped in the car all night to catch the dawn and that gardeners have deadheaded everything the day before.) I also know that the chance of any garden looking like that for more than five days a year is zilch.
We are in the business of managing expectations, and no client wants to hear that roses get rose sickness, blackspot, hate chalk, need feeding and deadheading, are a flop in the rain and will not flower continuously all summer. The last drawback is the one to be prepared for: after we are shown the picture, we also learn that they would like constant colour and would prefer not to see any bare soil. Ever.
"No dirt," said an American client.
"Can't we have evergreens in winter, like the Swiss?" asked a girl brought up in Geneva. "Or those red things that grow in window boxes?" (She was thinking of cyclamen in London at Christmas).
We deal with the roses/constant colour question by saying that the best roses generally flower at midsummer and then patchily beyond, so it is worth adding other plants that will have some impact for the rest of the season. We suggest tulips and dahlias to top up the colour quota before and after the roses. This is fine until some more knowledgeable friend, who is a bit behind the times, tells them that "dahlias are a bit – you know, not quite".
"They are very 'quite'," we say firmly.
Another problem is that a few of the people we work for not only have no gardening knowledge, but also plan to employ a gardener with pool management and car driving skills, rather than with any horticultural background. We get around this by suggesting a brilliant trainer and troubleshooter who goes in perhaps once a fortnight to give the "gardener" a crash course in how to manage the place.
His greatest success was to turn a couple who had never gardened before into competent veg growers and mowers, who knew what to do in a simple border to keep it looking good all year and could train climbers beautifully – all in the space of six months. They ring Peter whenever they have a problem and that works a treat and is a huge relief to us.
What clients often fail to grasp is that the success of any garden is 40 per cent design and 60 per cent maintenance.
Fast facts for foolproof borders
We never have a standard scheme, but there are certain plants which it is hard not to include because they are so reliable. Modern naturalistic borders tend to be a post-midsummer feature. This does not suit clients who want a tidy look and all-year interest. Our own gardens are wild, labour-intensive and we get crazes for new plants all the time. We reckon to stake most things, and we like half-hardies, bulbs and self-seeders in mixed borders. However, all this can be a bit too complicated to be dependable, so we have to find a way of delivering the effect the client wants more simply.
The good thing about starting with a fairly foolproof scheme is that you gain the confidence of the client and, as their gardener becomes more skilled, you hope to go back and vary the palette. Ideally, the novice owner and gardener both get the plants bug and that is when the new garden starts to get interesting.
Ground cover all year
The way to deal with the all-year "no dirt" problem is with an underpinning of evergreen and plenty of early bulbs. Piet Oudolf taught us that structured shapes in a sea of naturalistic planting will anchor the whole scheme.
Because box has become so unreliable (thanks to blight), we like to use evergreens such as phillyrea, osmanthus, sarcococca and Skimmia x confusa 'Kew Green', with yew for bigger beds. Useful small evergreens include daphnes, ferns, bergenias, euphorbias, Iberis sempervirens and hellebores, but we never dedicate more than 30 per cent of the bed to winter duty, to ensure room for summer effects.
Grasses are a help because they can look good if winters are not too wet. One very easy, and effective, scheme we came up with includes lavender 'Sawyers' and the grass Molinia caerulea subsp. arundinacea 'Fontäne'.
Early starters
In November and December it is hard to keep bare ground covered. Unfortunately most clients do not like the look of dead brown stems left for the birds. We plant Cyclamen coum under shrubs, where they will be shaded in summer, and from January these and snowdrops can keep the "dirt" half-decent.
Add scillas and Iris reticulata and the bed will look good through February and March; their dying leaves will disappear as other plants emerge. If a few get dug out, they can be topped up from time to time.
Bulbs are useful in new schemes as they fill in the gaps while other things grow. We like to use tulips in a naturalistic way because they are a source of instant colour for any scheme. Alliums and regale lilies can look showy in the first summer and, if the ground seems too bare in the early stages, we might also add biennials like honesty, sweet rocket and foxgloves.
Flowers optional
Then there are the plants which look good even when not in flower. We include about 20 per cent of these – more if grasses are allowed. Iris pallida is a favourite because, unlike most irises, its blue-grey leaves look good for months.
Acanthus, especially the new white-flowered 'Rue Ledan' is another standby in shade. Sea kale (Crambe maritima) has good foliage, as does agapanthus. Some clients ban red and orange, but Crocosmia 'Lucifer' is useful if they don't. Thalictrums are lovely and, on dry soils, the thistlelike eryngiums thrive. In silvery schemes the bold dianthus 'Bailey's Anniversary', 'Laced Monarch' and 'Rose Joy' are all good and when in flower they provide scent, which is important.
The dependables
These are the plants with long flowering seasons; they make up about 30 per cent of a typical planting plan. Geranium 'Rozanne' is irresistible. Valerian (Centranthus ruber) is unstoppable in red or white – never pink because it is too murky – but it does need deadheading. Aster x frikartii 'Mönch' is good, but needs staking unless it gets the Chelsea chop. (With inexperienced gardeners we try to avoid using plants that need staking.) Japanese anemones in pink or white are hard to leave out and Phlox paniculata 'Blue Paradise' is another favourite. We often use Daphne x transatlantica 'Eternal Fragrance', as it has smart foliage and flowers all summer.
The mix varies, but it helps to set out a list of what flowers will be out in which season, so that you can see where the shortfalls are.
Star performers
For showy flowers – the final 20 per cent – we add carefully chosen roses. Most clients ask for them (they also ask for catmint and alchemilla, but we tend to resist those, because they are overused). In hot places, where the brief is bold colours, we might suggest Rosa x odorata 'Mutabilis'. This is a single rose in shot flame and orange which is out for ages and has a freer habit than most. It needs no deadheading and rarely gets diseases. Another single, long-season rose we often plant is the new 'Kew Gardens'. More traditionally, 'Winchester Cathedral' or 'Margaret Merril' are good whites and 'Munstead Wood' and 'Young Lycidas' are rich purples. 'Gertrude Jekyll' is a reliable pink with an old-fashioned shape.
Dahlias are invaluable with three months of flower but they do need staking and protecting in winter. For the cautious we might use 'Porcelain' and the crimson single D. coccinea that seems almost hardy here. The bolder client might end up with 'Hillcrest Royal', 'Grenadier', 'Roxy' or 'David Howard'.
A year in flower
• January-March
Cyclamen, snowdrops, crocus, scilla, Iris reticulata
• April-May
Tulips, lavender, euphorbia, alliums, honesty, sweet rocket, Iris pallida
• June-July
Roses, lilies, thalictrum, sea kale, foxgloves, Geranium Rozanne
• August-September
Roses, lavender and geranium will continue to flower. Dahlias, agapanthus, Japanese anemones, crocosmia, phlox, eryngium, Aster x frikartii 'Mönch'
• October-December
Evergreen shrubs come into their own, such as phillyrea, osmanthus, sarcococca, skimmia, yew. Smaller evergreens include ferns, bergenias, euphorbias and hellebores. Dianthus stays blue-leaved all winter
___________________________________________
http://www.telegraph.co.uk/gardening/3337494/On-the-spot-the-plant-for-dry-shade.html
On the spot: the plant for dry shade
Carol Klein finds the perfect plant to survive in soil lacking moisture and nutrients
One of the most difficult areas in any garden is among tree roots or at the bottom of walls and fences. These roots compete for nutrients and suck all the moisture from the soil, while the overhead canopy and tall walls steal any rain that falls.
Only the tough can survive such inhospitable conditions, but one group of plants takes this hostile environment in its stride – epimediums.
Epimediums come from all over the northern hemisphere: some are deep-shade plants, others inhabit scrubby woodland margins. Wherever they grow, they colonise areas in which other perennials might give up the ghost, adding their handsome foliage and extraordinary flowers to the springtime mix.
Epimediums belong to the berberis family, and though it might be difficult to spot the similarity at first, closer inspection reveals that the basic flower shape has much in common with the flowers of mahonia and berberis: some are evergreen and have the same midwinter gloss as the burnished leaves of Mahonia japonica, others start from scratch each year.
They are modest, quiet plants, and even the most boisterous species are no more than mildly showy, though that's not to say that there is anything bland or utilitarian about them. Although they may be the first port of call when the gardener is searching for a plant for dry shade, they are things of beauty in their own right.
Not only are their flowers fascinating, but the new foliage of both herbaceous and evergreen species has a translucent tenderness unmatched by any other genus.
Division is the usual means of propagation, although some of the Asiatic species self-seed freely. Most have woody crowns with a mass of fibrous roots. The best time to split clumps is in spells of mild weather when the plant is dormant.
Lift the whole clump and shake off excess soil, pull them apart, but try not to sever the dormant buds that will make the new season's growth.
If you are planting among tree roots, excavate carefully to find pockets of soil and add plenty of humus-rich material around the epimedium's roots to give it a good start.
The varieties
In recent years there has been an influx of exciting Chinese species, thanks to the enterprise of plant collectors. Roy Lancaster introduced Epimedium acuminatum from Sichuan 20 years ago, and several others have been brought into cultivation. All are breathtakingly beautiful, with elegant flowers and petals and sepals in shades of lilac and purple. They dangle from long stems, in some selections opening over several months. The foliage lasts even longer and is equally striking.
Introduced relatively recently, Epimedium grandiflorum 'Freya' is a delight. Its deep violet-crimson flowers are highlighted by four white-spurred petals – a prominent feature when they open fully, giving the appearance of an extra-terrestrial insect. Leaf margins and stems are blackcurrant-coloured, adding to the chromatic impetus.
Epimedium grandiflorum comes from Japan and Korea. Completely herbaceous, its pristine new leaves start to push through in April alongside dainty buds that open to exquisite, large flowers, with slender spurs flaring out above neat bells. Epimedium grandifl orum 'Nanum', by contrast, has everything in miniature. Stems of both flowers and buds are maroon and the leaves are edged in the same colour. Look out, too, for 'Rose Queen' and 'White Queen'.
To provide elegant groundcover and year-round interest, nothing compares with red-flowered Epimedium x versicolor, except perhaps its twin offspring – E. x v. 'Sulphureum', with its bright yellow flowers, and the paler E. x v. 'Neosulphureum'. All have delicate new foliage that becomes glossy and hard as the season progresses, and is at its burnished best in winter. In spring, clumps are laced with stems of clustered buds, which are easier to see when old foliage has been sheared away.
Epimedium davidii was reintroduced from China by Martyn Rix. It is a jolly species, with dainty yellow flowers hovering on wiry stems above rich, green foliage. Its new leaves are splashed with red. Many of these Oriental species not only cope in shade, but actually need the protection from cold winds afforded by trees and shrubs. Every so often, tatty foliage can be removed to ground level so that flowers and new foliage can be enjoyed fully.
_________________________________________________
http://www.independent.co.uk/property/gardening/emma-townshend-who-needs-sun-im-more-than-happy-with-my-north-facing-garden-8740629.html
Emma Townshend: 'Who needs sun? I'm more than happy with my north-facing garden'
Saturday 3 August 2013 23:00 BST
The Independent Online
____________________________________________
---
If you asked a gardener to describe their dream space, it's unlikely they would suggest a damp, north-facing plot that is heavily shaded. The lack of sunlight means you can't kick back and relax on a deckchair, grow cottage-garden perennials or fill pots with sun-loving plants from the Mediterranean – but does it rule out having a beautiful garden? No, of course it doesn't. For proof, look no farther than this tranquil garden owned by Julia Dear and Michael Kennet, in Holland Park, west London. The couple's 16m x 9m, north-east-facing garden receives very little sunlight, but is a lush city oasis of towering exotics, architectural shrubs and perennials.
"It looks stunning today," says Kennet, who bought the house with Dear in 2001, "but when we moved in, it was a nightmare – the garden was completely overgrown and largely shaded by four-storey houses and neighbouring trees. We really didn't think a lot could be done with it."
After paying someone to hack back the tangle of shrubs, the couple decided they would need some help to transform their unpromising plot. The answer: to call in Declan Buckley, a garden designer who has tackled many similar small gardens across the capital.
Buckley's plan was to divide the space into three visually defined areas that link together. A patio would be built at the back of the house, leading to a lawn. In the area farthest from the house, he decided to build a deck – although the garden gets no direct sunlight for about five months of the year, this part does get midday sun in summer.
As the couple are both busy professionals, Buckley decided to use low-maintenance evergreens and lots of leafy exotics that thrive in the special microclimate found in many London plots. The result is a garden that looks green and lush all year round.
Surrounding the patio, which lies in the shade of next door's towering eucalyptus tree, are many plants that thrive in low light. A hardy Japanese banana (Musa basjoo), tree fern (Dicksonia antarctica) and false castor-oil plant (Fatsia japonica) are under-planted with ferns, hellebores and euphorbias. To help brighten the patio, Buckley has used a light shade of Indian sandstone for paving and planted several arum lilies (Zantedeschia aethopica), whose white waxy flowers last from May until June.
Garden furniture has been placed on the patio for the couple to enjoy alfresco meals. Is it a good idea to make a dining area in the shade? "Many people put their eating area in the sunniest part of the garden, but there's nothing worse than frying in the sun when you're eating. Putting it in the shade gives you a nice, calm retreat as the weather gets hotter and hotter," Buckley says.
A horizontal band of planting separates the patio from the lawn. Huge clumps of lily turf (Liriope muscari) romp away in the semi-shade and boast spikes of pale pink flowers during autumn, while two large specimens of Astelia chathamica 'Silver Spear', with their long, arching leaves, partially obscure a pair of granite elephant sculptures.
"You often see astelia planted in full sun," Buckley says, "but they do really well in light shade and I find their silvery foliage helps to brighten up shady gardens."
The centre of the garden is dominated by a lawn. "I tried to talk Michael out of having this because it's not the ideal place for one – you only have to look at the others in the street to see how they suffer because of buildings and trees," says Buckley, who got round the problem by using a shade-tolerant seed mix.
The planting round the lawn gives the garden a jungly feel and helps to provide privacy from neighbouring windows. Large shrubs, such as heavenly bamboo (Nandina domestica), honey spurge (Euphorbia mellifera) and stag's horn sumach (Rhus typhina 'Dissecta'), knit together with bamboos, while lower down Anemone x hybrida 'Honorine Jobert' and Eucomis bicolor provide striking, white blooms in summer.
Like many shady gardens, this has a sunny spot. Buckley has made the most of it by building a deck, encircled by plants that like it hot and dry: Artemisia 'Powis Castle', agapanthus, fig and Convolvulus cneorum, whose silvery leaves echo those of the astelia. A band of white arum lilies in front of the deck divides the back of the garden from the lawn – even when they are not in flower, their arrow-shaped leaves earn their keep by adding a verdant feel to the garden.
By skilfully combining plants and materials, Buckley has created a garden where the lack of light is soon forgotten. "There's a tendency to think you can't do anything in a shady space," he says, "but that point of view is very far from reality. You might not be able to have big, blousy borders, but I really do think you can relax more in a cool, shady space. Walking into this garden is like entering a fernery – I find it so peaceful."
· Declan Buckley (020-7226 3697, buckleydesignassociates.com)
Creating a lawn in shade
Establishing a lawn in shade is hard, but by no means impossible. Generally, the grass varieties found in domestic lawns need about four hours of light a day to thrive. Any less will result in poor growth and a lawn that is vulnerable to weeds and moss.
Choose turf specifically for shade or a seed mix containing grasses that do well in low light. These contain a high percentage of fine-leaved grasses, among them creeping red fescue and smooth-stalked meadow grass.
Turf manufacturer Rolawn (0845 604 6050, rolawn.co.uk) has several products for shade; or, if you fancy doing it yourself, try the Shaded Lawn Grass Seed Mixture, £57.50 for a 10kg bag, from Nicky's Seeds (01843 600972, nickys-nursery.co.uk).
When caring for a shady lawn, mow it less often and let the grass grow longer – also, avoid scalping the surface by raising the cutting height to 50mm.
Six top shade perennials
Pulmonaria 'Blue Ensign'
Originally found at the RHS garden at Wisley, this is of the best blue pulmonarias, with large blue, disc-shaped flowers. Height 30cm, and when the dark green, unspotted foliage is fully expanded it has a spread of 45cm.
Erythronium californicum 'White Beauty'
This tall (to 35cm, S: 10cm), vigorous plant has large, white flowers with a yellow centre. Easy to grow, it blooms early, before the leaves come on the trees, then dies down in summer, leaving the stage free for summer-flowering plants, such as hardy geraniums.
Helleborus x hybridus 'Ushba Strain'
This is an easy garden plant, with pure white, bowl-shaped flowers, that brings much to the spring garden. Far more reliable and free-flowering than H. niger. H: 40cm, S: 45cm.
Viola odorata
Sweet violets are native to this country, and flower in early spring. A bunch will bring scent to a whole room; H: 15cm, S: 60cm.
Gillenia trifoliata
This lovely member of the rose family hails from the woodlands of North America. Growing up to 1m tall with a spread of 40cm, in June to early July it produces sprays of large white flowers with a red, petal-like calyx.
Cyclamen hederifolium 'Silver Cloud'
An easy plant – perfect for dry conditions – with silver foliage that looks good all winter before dying down in late spring. Pink flowers appear in late August, heralding a change in the season; a flush of new leaves soon follows. H: 15cm, S: 30cm.
· Plants chosen by Nigel and Michelle Roland, of Long Acre Plants, Somerset (01963 32802; plantsforshade.co.uk), which specialises in shade-loving plants.
____________________________________________________
https://www.rhs.org.uk/advice/profile?pid=100
Introduction
For practical considerations and to learn more about degrees of shade see our page on shade gardening.
Suitable plants
See the list below for some of our suggestions on annuals, perennials, bulbs, fern and grasses to grow in shade. A much wider range of plants including other cultivars of those listed, can be found at RHS Find a Plant.
For other plants, see our advice pages on shade-loving shrubs, climbers and wall shrubs for shade and planting under trees.
(*) suitable for neutral to acid soils
(v) variegated foliage
(e) evergreen

prefers moist or wet soil
AGM The RHS Award of Garden Merit
Note: Height and spread for each plant is approximate. Location, soil conditions and prevailing weather will influence ultimate height and spread.
Perennials for deep shade
Acanthus mollis: robust clumps of glossy large dark green leaves, flower spikes up to 70cm (28in) in summer bear white or pink-veined flowers with green-purple bracts. Height 1.5m (5ft). Spread 90cm (3ft).
Alchemilla mollis AGM: rounded lobed pale green leaves and tiny greenish-yellow flowers from early summer to autumn. Seeds freely.
Astrantia maxima AGM:
clumps of three-lobed leaves, flower-heads with broad, pinkish bracts surround tiny pink flowers in summer. Height 60cm (2ft). Spread 30cm (1ft).
Campanula persicifolia: rosettes of bright green leaves and stiff stems carry open bell or cup-shaped flowers in various shades of blue or in white. Height 60-80cm (2ft-32in). Spread 30cm (1ft).
Epimedium × versicolor 'Sulphureum' AGM: (e) light to mid green leaves tinted reddish-copper, pale yellow flowers on leafy stems, mid spring. Height 30cm (1ft). Spread to 90cm (3ft).
Filipendula purpurea:
purple-tinted stems and lobed leaves, deep pink flowers in dense clusters in summer. Height 1.2m (4ft). Spread 60cm (2ft).
Geranium nodosum: glossy 3-lobed leaves and loose clusters of dark-veined, light pink flowers from late spring to early autumn. Height 30-50cm (1ft-20in). Spread 50cm (20in).
Geranium phaeum 'Lily Lovell': rich purple-mauve flowers on branched stems in late spring and early summer. Height of flower to 80cm (32in). Spread 45cm (18in).
Pulmonaria 'Blue Ensign' AGM: blue-violet flowers in spring. Height 35cm (14in). Spread 45cm (18in).
Rodgersia pinnata 'Superba' AGM: large clumps of palmate, crinkled, heavily veined leaves, and tall panicles of small bright pink flowers from mid- to late summer. Height 1.2m (4ft). Spread 90cm (3ft).
Tellima grandiflora: rosettes of hairy leaves, greenish white flowers on tall stems from late spring to midsummer. Height with flowers 80cm (32in). Spread 30cm (1ft).
Tradescantia Andersoniana Group 'Osprey': large white flowers with blue stamens, over a long period in spring and summer. Height 50cm (20in). Spread 45-60cm (18in-2ft).
Tricyrtis formosana: dark-spotted lance-shaped leaves, clusters of star-shaped whitish flowers, heavily spotted purple in autumn. Height 80cm (32in). Spread 45cm (18in).
Perennials for lighter or dappled shade
Actaea racemosa AGM: tall branched, bottlebrush-like racemes of small, white flowers above bright green, divided leaves. Height 1.2-2.2m (4-7ft). Spread 60cm (2ft).
Anemone × hybrida 'Honorine Jobert' AGM: branched stems with single white flowers with golden stamens, late summer to mid-autumn. Height 1-1.2m (3-4ft). Spread indefinite.
Aruncus dioicus: fern-like mid-green leaves and creamy-white to greenish-white flowers in loose panicles, early to midsummer. Height 1.2-1.5m (4-5ft). Spread 1.2m (4ft).
Aster thomsonii 'Nanus': long-lasting star-shaped, lilac-blue flowerheads from midsummer to autumn. Height 45cm (18in). Spread 25cm (10in).
Astilbe 'Fanal' AGM: (m) dark stems bearing dark reddish-green, divided leaves and short dense spikes of deep crimson flowers in early summer. Height 50cm (20in). Spread 45cm (18in).
Astrantia major 'Claret':
distinctive dark-red bracts surround crimson flowers, early and midsummer. Height 60cm (2ft). Spread 45cm (18in).
Brunnera macrophylla 'Jack Frost' (PBR) AGM: large, heart-shaped silver leaves edged and veined with green, and sprays of small blue flowers in spring. Height 45cm (18in). Spread 60cm (2ft).
Dicentra 'Stuart Boothman' AGM: finely divided grey-green leaves and arching sprays of deep rosy-pink flowers in early summer. Height 35cm (14in). Spread 40cm (16in).
Geranium sanguineum var. striatum AGM: small pale rose-pink flowers during summer. Height 20-25cm (8-10in). Spread 40cm (16in).
Geum rivale 'Leonards Variety': free flowering copper-pink orange-tinged flowers mid and late summer. Height and spread 60cm (2ft).
Hosta 'Frances Williams': clumps of broadly heart-shaped, puckered and veined grey-green leaves with wide, irregular yellow-green margins. Pale lilac summer flowers. Height 75cm (30in). Spread 1.2m (4ft).
Iris 'Flight of Butterflies' (Sib):
grassy foliage and branched stems carrying flowers with drooping falls, bright blue and heavily veined. Very free flowering. Height to 90cm (3ft).
Kirengeshoma palmata Koreana Group AGM: large, rounded, lobed leaves, dark maroon stems bearing nodding, bell-shaped creamy-yellow flowers in late summer and autumn. Height 1.2m (4ft). Spread 75cm (30in).
Lamprocapnos spectabilis: (dicentra) arching fleshy stems produce racemes of heart-shaped flowers with rose pink and white petals in late spring. Height 60-90cm (2-3ft). Spread 45cm (18in).
Ligularia dentata 'Desdemona':
large bronze-green leaves, purple beneath and showy orange daisy-like flowers from midsummer to autumn. Height to 1-1.2m (3-4ft). Spread 1m (3ft).
Meconopsis baileyi AGM: (Himalayan blue poppy) (*)
profuse, saucer-shaped, bright blue flowers with yellow stamens borne on bristly stems in early summer. Height 1.2m (4ft). Spread 45cm (18in).
Phlomis russeliana AGM: hairy, mid-green heart-shaped leaves, hooded pale yellow nettle-like flowers from late spring to autumn. Height 75cm (30ins). Spread 90cm (3ft).
Primula beesiana:
rosette forming Candelabra type primula with stout flower stems producing reddish-pink flowers with a yellow eye in summer. Height and spread 60cm (2ft).
Rudbeckia fulgida var. deamii AGM: hairy stemmed, free flowering daisy-like flowerheads of deep yellow with black centres in summer. Height and spread 60cm (2ft).
Saxifraga fortunei AGM: fleshy, rounded leaves, often reddish beneath. White flowers, in large open panicles from late summer. Height 30cm (1ft). Spread 30cm (1ft).
Symphyotrichum cordifolium 'Sweet Lavender' AGM: (blue wood aster) upright stems carry arching branches of lavender-blue flowers in autumn. Height 1.2m (4ft). Spread 45cm (18in).
Tiarella cordifolia AGM: heart shaped fresh green leaves and white to pale pink flowers in dainty upright spikes in spring. Height 20cm (8in). Spread 30cm (1ft) or more.
T. wherryi AGM: white flowers in late spring and early summer in spike-like racemes. Height 20cm (8in). Spread 15cm (6in).
Trillium grandiflorum AGM: almost stalkless dark green leaves to 30cm (1ft) long and in spring and summer white flowers with wavy petals produced above the leaves. Height 40cm (16in). Spread 30cm (1ft).
Trollius chinensis 'Lemon Queen':
pale lemon-yellow flowers in late spring on slender stalks. Height 60cm (2ft). Spread 45cm (18in).
Uvularia grandiflora AGM: slowly spreading stems carry up to four, rich-yellow tubular flowers in mid and late spring. Height 75cm (30in). Spread 30cm (1ft).
Ground cover perennials
Ajuga reptans 'Burgundy Glow' (v): (e) silver-green leaves flushed red become darker later in the season. Height 15cm (6in). Spread 60-90cm (2-3ft).
Bergenia 'Overture': (e) broad, neat, glossy mid-green foliage, richly coloured dark red and bronze in winter and early spring and rich magenta flowers in spring. Height 30cm (1ft). Spread 45cm (18in).
Corydalis lutea: spreading clumps of divided bright green leaves and clusters of bright yellow flowers from spring to late summer. Seeds freely. Height 30cm (1ft). Spread indefinite.
Euphorbia amygdaloides: (wood spurge) (e) forms large drifts of groundcover, reddish-green stems, dark green leaves and greenish-yellow flowers in mid spring. Height 30-45cm (12-18in). Spread indefinite.
Geranium macrorrhizum 'Czakor': aromatic mid-green divided leaves have good autumn tints, magenta-pink flowers on reddish stems in late spring and early summer. Height 45cm (18ins). Spread 60cm (2ft).
Lamium maculatum 'Beacon Silver': prostrate stems bear silvery leaves with a fine green margin. Purplish-pink flowers in summer. Height 20cm (8in). Spread 90cm (3ft) or more.
Ophiopogon planiscapus 'Nigrescens' AGM: forms colonies of grass-like purple-black foliage in clumps and purple flowers in summer, followed by purple berries. Height 20cm (8in). Spread 30cm (1ft).
Persicaria affinis 'Superba' AGM: (m) mat-forming dark green leaves, red-bronze in autumn, flower spikes of pinkish-red midsummer to mid-autumn. Height 25cm (10in). Spread 60cm (2ft) or more.
Viola odorata: (sweet violet) short stems and with tufts of heart-shaped bright green leaves, sweetly scented blue or white flowers in late winter or early spring self-seed freely. Height 20cm (8in). Spread 30cm (1ft).
V. riviniana Purpurea Group: (common dog violet) spreading heart-shaped dark green leaves flushed purple when young. Pale purple flowers in spring and summer. Height 8cm (3in). Spread indefinite.
Waldsteinia ternata: lobed bright green leaves and in late spring and early summer bright yellow flowers. Height 10cm (4in). Spread 60cm (2ft) or more.
Ferns
Also see our page on hardy ferns.
Damp shade
Adiantum venustum AGM: (e) (Himalayan maidenhair fern) pinnate mid-green fronds with narrow fan-shaped segments on black stalks. Height 15cm (6in). Spread indefinite.
Asplenium scolopendrium AGM: (harts tongue fern) (e) crowns of arching, glossy, rich green, strap-shaped fronds. Height 45-70cm (18-28in). Spread 60cm (2ft).
Athyrium niponicum var. pictum AGM: (painted lady fern) (*) clumps of silvery-grey/green foliage and purple-red stalks. Height 30cm (1ft). Spread 90cm (3ft).
Blechnum chilense AGM: (e) (*) pinnate dark green fronds have brown scaly stalks. Height 1m (3ft). Spread indefinite.
Dryopteris erythrosora AGM: tufts of triangular fronds copper-red when young, turning dark green. Height 60cm (2ft). Spread 38cm (15in).
Very wet sites in shade
Dryopteris carthusiana 'Cristata': delicate pale green fronds. Height 60cm (2ft). Spread 30cm (1ft).
Matteuccia struthiopteris AGM: (shuttlecock fern) erect rosettes of lance-shaped, bright green, sterile fronds surrounding shorter, brownish fertile fronds Height 1.5m (5ft). Spread 90cm (3ft).
Onoclea sensibilis AGM: (sensitive fern) (*) arching pale green fronds in spring, sometimes emerging pinkish-bronze. Height 60cm (2ft). Spread indefinite.
Osmunda regalis AGM: (royal fern) (*) robust, with tall fronds bearing rusty-brown spore-bearing pinnae at the tips; foliage turns attractive red-brown in autumn. Height 2m (6½ft). Spread 4m (13ft).
Dry shade
Dryopteris affinis AGM: (Golden male fern) (e) lance-shaped pale green fronds mature to dark green. Height and spread 90cm (3ft).
Polypodium interjectum 'Cornubiense' AGM: (e) excellent ground cover, vigorous dark green fronds. Height 30-40cm (12-16in). Spread indefinite.
Polystichum acrostichoides: (e) narrowly lance-shaped dark green fronds. Height 45cm (18in). Spread 90cm (3ft).
P. setiferum AGM: (soft shield fern) (e) soft lance-shaped dark green fronds. Height 1.2m (4ft). Spread 90cm (3ft).
Grasses for shade
Most grasses need good levels of sunlight to flower but many are tolerant of light or semi-shade. See our page on ornamental grasses for more details.
Anemanthele lessoniana AGM: (pheasant tail grass) (e) cascading mounds of colourful leaves in shades of green, orange and red, pendent panicles of purplish-green spikelets, late summer. Height and spread 1m (3ft).
Calamagrostis × acutiflora 'Overdam': clumps of upright bright green and white striped slender leaves, purplish inflorescences become greyish-pink, late summer. Height 1.2m (4ft). Spread 1m (3ft).
Carex morrowii 'Ice Dance': (e) clumps of bright green leaves margined white, green and brown flower spikes, late spring. Height 30cm (1ft).
Carex muskingumensis: (palm sedge) clumps of gently spreading, narrow light-green leaves, golden-brown flower spikes midsummer Height 60cm (2ft). Spread 45cm (18in).
Deschampsia cespitosa 'Goldtau': (e) tussocks of linear mid-green leaves, reddish-brown spikelets age to golden yellow. Height and spread 75cm (30in).
Festuca glauca 'Elijah Blue': (blue fescue) (e) densely tufted blue-grey leaves, spikelets of violet-flushed blue-green flowers midsummer. Height and spread 30cm (1ft).
Hakonechloa macra 'Aureola' AGM:: (v) mounds of arching bright yellow leaves with green stripes, red flushed in autumn. Height 35cm (14in). Spread 40cm (16in).
Helictotrichon sempervirens: (blue oat grass) tufted mounds of metallic-blue leaves, straw-coloured spikelets, midsummer. Height 1m (3ft). Spread 60cm (2ft).
Luzula sylvatica 'Aurea': (e) best in light shade to avoid scorching the bright golden-yellow leaves, small chestnut-brown flowers in panicles, early summer. Height 60cm (2ft). Spread 45cm (18in).
Luzula sylvestris 'Marginata': (e) tuft of glossy leaves narrowly margined with cream, with open panicles of brown flowers in early summer. Height 30-60cm (1-2ft). Spread 30-60cm (1-2ft).
Milium effusum 'Aureum' AGM: rich golden-yellow leaves, especially in spring may be pale green in deep shade, golden spikelets in nodding panicles, late spring. Height 60cm (2ft). Spread 30cm (1ft).
Miscanthus sinensis 'Abundance': dense mounds of narrow leaves, tall transparent panicles of silky pale spikelets, autumn. Height 1.5-2m (5-6ft). Spread 1.2m (4ft).
Molinia caerulea subsp. caerulea 'Edith Dudszus': (purple moor grass) rich purple, almost black stems in dense clumps, purple spikelets on blackish stems. Height 1.5-2m (5-6ft). Spread 40cm (16in).
Sesleria caerulea: (blue moor grass) (e) tufted pale blue-grey leaves, bluish-purple spikelets mid spring-summer. Height 30cm (1ft). Spread 25cm (10in).
Bulbs
Anemone blanda AGM: blue/white-pink flowers. Height 15cm (6in). Spread 15cm (6in).
Cardiocrinum giganteum: leaves to 30cm (1ft) across, and terminal racemes of fragrant, trumpet-shaped white flowers marked with purple within the mouth. Height 2m (6½ft). Spread 45cm (18in).
Chionodoxa forbesii: star-shaped blue flowers with white centres in early spring. Height 10-20cm (4-8in). Spread 3cm (1¼in).
Convallaria majalis AGM: (lily-of-the-valley) creeping perennial producing scented, white flowers in late spring. Height 23cm (9in). Spread 30cm (1ft).
Cyclamen hederifolium AGM: heart-shaped patterned mid to dark green leaves and flowers in white and shades of pink with maroon markings mid and late autumn before the leaves. Height 10cm (4in). Spread 15cm (6in).
Eranthis hyemalis AGM: (winter aconite) cup-shaped bright yellow flowers from late winter, surrounded by divided leafy bracts. Height 5-8cm (2-3in). Spread 5cm (2in).
Erythronium dens-canis AGM: (dog's-tooth violet) green leaves, heavily mottled with brown, and solitary, white, pink or lilac flowers with yellow and red-brown zones at base in spring. Height 10-15cm (4-6in). Spread 10cm (4in).
Galanthus nivalis AGM: (common snowdrop) native bulb to UK with white flowers in winter. Avoid summer drought. Height: 10-22cm (4-9in). Spread 5-8cm (2-3in).
Narcissus (daffodil) cultivars such as N.'Actea', 'N.Jenny' and N. 'Jack Snipe'. Height 20-45cm (10-18in).
Scilla sibirica AGM: linear basal leaves and racemes of bright blue flowers in spring. Height 10-20cm (4-8in). Spread 5cm (2in).
Annuals/biennials for shade
Begonia semperflorens
Bellis perennis
Impatiens (bizzie lizzie)
Lunaria annua
Myosotis (forget-me-not)
Nemophila insignis
Nicotiana
Schizanthus
Tropaeolum (nasturtium)
Viola (pansy)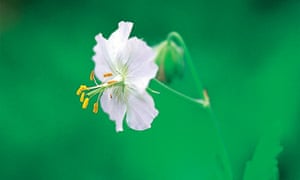 There's a strict hierarchy of shade. The damp, dappled shade of a deciduous tree with a thick layer of leaf mould is nirvana; the dry, parched shade of a building shadow or a monster leylandii quite the opposite.
There are a few plants prepared to take on the challenges of dry shade. Geranium phaeum, known as the mourning widow, will grow in the dry, shallow soils of tree roots, though her name alone tells you she's a doleful sort. The more cheery, white-flowered G. phaeum 'Album' will bring light to dark corners. Likewise, Liriope muscari, with its spires of purple beaded flowers, tolerates hot, dry sites. So will Vinca minor, the lesser periwinkle, slightly less of a thug than its cousin, V. major, the greater periwinkle. These are the safe choices beloved of office plantings, but if you work at your soil, there are other options.
Add a mixture of homemade compost and leaf mould. Gather grass cuttings from neighbours, sweep up leaves on the street, shred bills and collect scraps: your compost bin will convert dry shade into rich soil suited to woodland flowers. Spread on a thick layer in early spring, and add a handful or two of well-rotted compost to every planting hole.
As for plants, stick to the true woodlanders, starting with a layer of bulbs such as snowdrops or Anemone nemorosa. Both are adapted for the deep summer shade of trees, making the most of the light in spring. They will do equally well in the shade of a building.
Next, establish some ground cover, because exposed soil dries out quickly. Duchesnea indica, the false strawberry, is an evergreen perennial with jolly yellow flowers and edible berries (see my 27 July column on edible ground cover for more). Add a few epimediums, easygoing plants with tiny lemon yellow or red flowers peeping over evergreen heart-shaped leaves. Next try bleeding hearts, (Lamprocapnos, formerly Dicentra spectabilis), plus Lady's mantle (Alchemilla mollis) and sweet cicely (Myrrhis odorata) for a soft green theme. For height, plant Thalictrum delavayi with its ethereal white flowers, and Anemone sylvestris for late summer colour.
Finally, add as many foxgloves as you see fit. The common foxglove Digitalis purpurea (in purple or the pure white 'Alba') or the dusky pink Digitalis xmertonensis will tolerate dry or damp shade and lift your eye while the early spring plants are dying back.
________________________________________________________________________
https://www.theguardian.com/lifeandstyle/2006/mar/12/gardens
I remember taking a holiday in May 1981 in Kos. It was snowing as we took a taxi to the airport. At 26, this was my first seaside holiday since I was four and the first abroad. I was amazed to see summer sun at the other end of the journey. I hear that Kos is a clubbing, drinking nightmare now, but back then hardly anyone went. We lodged with a local family, hired bikes, saw bee-eaters and carefully coated ourselves with cocoa butter to intensify the burning effect of the sun. We used to bike to an almost totally deserted, huge beach a couple of miles down the coast. The first time I went there I watched a wonderfully statuesque naked figure dancing – ballet, real dance – on the sand. It was an image of abandonment impossible to imagine under my northern sky. Later, she walked by and revealed herself to be appreciably older than I am now. Somehow I admired her even more because of it.
I am stretching out to the sun now, craving the light. I am not quite at the point of whipping off my kit and dancing in adoration of its rays and my body does not have the lovely rounded maturity of that woman on the beach (who must be nearly 80 by now). I'd be white and embarrassed and probably wearing socks. At almost any time of the year I adore sun, and for the next few months seek out every scrap of it. I might get skin cancer, but it is a trade-off I am prepared to go with. I am sure, in these censorious and constrained times, some apparatchik with a clipboard will try to stop me 'for my own good', but I'll take the full glare while I can.
Like me, almost all plants do better with a good dose of sunshine, especially at this time of year. All the spring-flowering plants have evolved to make the most of the thin, brief sunlight that falls unfiltered by deciduous leaves, take advantage of the comparative lack of competition for pollinators, and then go dormant in the full glare of summer. Ironically, for woodland plants high, blazing summer is the period of deepest shade because the shrub and tree canopy fills out. I know that my own spring garden is a dark ravine between mid-June and September and very little is going on in there.
So much for using the sun in an evolutionary way (and I will be writing about the early perennials in a week or two), but one of the most common misconceptions that I come across in gardening is that shade is somehow less good than sun or that it is a problem to be solved. Not so. Dry shade can be limiting, but as a rule shade adds depth and quality to both the range of plants you can grow and the aesthetic pleasure for the gardener. There are exceptions to this – one immediately thinks of Derek Jarman's garden at Dungeness, but even that had plants growing in the lee of other plants. On the whole, shade equals shelter and substance, and both plants and humans like it.
Most green looks better in shade, and flowers that tolerate shade draw the eye to linger. And once you go south of about Lyon, shade is the point of any garden. Cool shade with the murmur of water is the equivalent of a long, deliciously cold drink on a boiling summer's day.
Then there is shade and shade. The dappled shade of woodland in spring is a benign affair, spangling the light rather than obscuring it. Within the umbrella of trees you can have layers of shade working down from the canopy, past tall shrubs and perennials to smaller ones, to low-growing ground cover and plants that spill out from shade, like primroses, wood anemones or snowdrops. Remember, shade is shelter and shelter is usually the most important thing for any plant in a garden.
Our Damp Garden is bounded by high hornbeam hedges (but not as high as they were – I took three foot off them the other day, which involved chainsaws, ladders and high anxiety) and they cast a deep shadow across exactly half of it. So the plants on one side of the narrow path through it live in a much more shadowy world than the other half, which has brilliant sunshine in the middle of the day. The garden is planted in a unified way with hostas, ligularias, regal ferns, primulas, cardoons, lysimachia, quinces and other damp-loving plants, but those that have midday shade tend to fare much better than those in the sun. Last year I noticed that the slugs went for the sunny hostas before the shady ones, even though they were only separated by a foot or two. I think this was because the sunny side got damaged by the frosts that we had in May, whereas the shaded ones remained unblemished and therefore less slugtastic. Hostas will grow perfectly well in full sun and cope with surprisingly dry conditions – but are much happier and healthier in damp shade.
We also have corners of almost permanent deep shade and the problem here is often one of drought. The only answer is to beef up the moisture retentiveness of the soil as much as possible with leaf mould, garden compost or whatever you have available, and then choose your plants from a limited range. The result is often lovely but always very green. Anyway, here are some plants for different types of shade.
Ferns
Ferns are usually the first plant that people reach for to 'solve' shade. They are often lovely, but they are most useful when it comes to dry shade, where Dryopteris filix-mas will grow utterly untroubled by lack of moisture or light. Polystichum setiferum is also particularly drought-resistant and most of the Adiantum and Polypodium ferns will do fine . Even so, leaf mould should be used to enrich the soil before planting and as a regular mulch.
Perennials
There are too many perennials that will grow well in shade to list here (as long as the soil is good and there is enough moisture), but here are a few reliably successful ones for dry shade. We grow both Acanthus mollis and A spinosus in deep shade and both seem to thrive. Alchemilla mollis is well known for its tolerance of dry shade and Euphorbia amygdaloides robbiae will do well too. Lamium maculatum is an excellent groundcover, but will spread if left unchecked. The same applies to both Vinca major and minor, but they are easy to control, so don't be put off. All hellebores like shade but H foetidus is best adapted for the dry version of it. Foxgloves are a biennial, but I will cheat and slip them in.
Climbers
Ivy, of course, is your main climber for any kind of shade. It has a destructive reputation, which is unwarranted, and it can be lovely. Hydrangea anomala petiolaris is happiest against a north wall, and winter jasmine will be comfortable there, too. Almost all clematis will grow in light shade and some, like C montana and all named hybrids will grow in quite deep shade as long as there is a light source that they can climb up towards. It is a mistake to give any clematis flowering before June full sun. Save that for plants that need it. Honeysuckle grows well in shade and the two climbing roses I recommend for a shady wall are the pink 'Madame Alfred Carriere' and the rich burgundy 'Souvenir Du Dr Jamain.' Both are superb.
BETH CHATTO
http://www.bethchatto.co.uk/plants-for-shade-conditions/